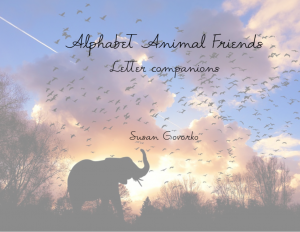 Alphabet Animal Friends – Letter Companions
Are you incorporating the animal friends with your lessons?
Sharing animal friends for the letters adds another dimension to teaching the Alphabet.  Alphabet Animal Friends showcases stunning photographs of the animals for all the letters of the Alphabet.  The book includes an introduction about the Elephant and brief narratives for each letter and its animal friend.
This is a large file with color photos throughout.  You may want to present the material digitally, or print out single or a few pages at a time, or print the entire book — suggest using 24lb. paper and printer option set for short edge binding.