Teaching The Vimala Alphabet™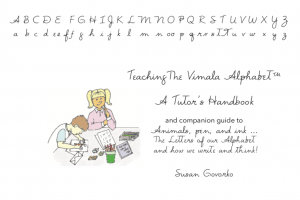 A downloadable handbook with handwriting basics including paper positioning, spacing, margins, slant, and, of course, supplemental information on how to present the Vimala Alphabet™ letters.  It serves as  reference notes for Vimala Alphabet™ tutors.
Purchase price:  $12.
Contact Susan for more information
For more information about classes with Vimala, visit her online at  vimalarodgers.com.
To learn more about the Guidebook, link to the Guidebook page here.